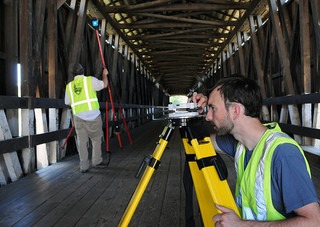 By capturing millions of spatially distributed points, this tool allows obtaining an accurate 3D representation, without exposing operators or equipment.
Laser scanner tools have advanced in technological development and are present in various types of applications, providing a highly detailed three-dimensional spatial representation with high levels of precision of various surfaces and shapes. We can find this technology in engineering projects (preliminary projects, As-built), open-pit or underground mining projects, architectural restoration initiatives, industrial plants, and monitoring.
Terrestrial laser scanner technology allows obtaining a 3D spatial representation of areas or areas of interest, capturing millions of spatially distributed points. This high degree of information is one of the main advantages of this tool in relation to traditional spatial information capture technologies. Likewise, the freedom to obtain the information without intervening in the object of study and the high speed of its capture, avoid the exposure of the operators and the equipment arranged in the measurement areas.
Operational aspects
The information captured from the laser scanner measurements is stored in the instrument's memories, and once downloaded through removable disk drives (pen drive, SD card, CF card) it is processed with software that allows managing a large amount of data, using computer workstations with high graphic performance and large storage capacity as a base.
The main information obtained is a point cloud of the study sector, from which various products can be generated, depending on the area of ​​analysis and application to be satisfied. Through the use of specialized software for each of the areas of interest and applications, it is possible to elaborate from surfaces formed by triangle meshes, deformation analysis of critical structures or slope stability, to the generation of ground lines, among others.
Main applications
Reverse engineering. Given the non-existent design information of an object, or loss of related documentation, reverse engineering is necessary in order to obtain the design plans of an object and thus be able to reproduce it. The result obtained can be a mesh of triangles that represents the object of study, allowing the triangulation of complex surfaces. Once the surface is created, there are two possibilities: one is to digitize the model and the other is to create iso curves, which are innumerable profiles projected on different parallel planes. In this way, it is possible to obtain the design drawings of the scanned object.
Deformation analysis. It is possible to continuously monitor the deformation and wear of hoppers, buckets, ponds, etc., so as to have the predictive capacity for their possible replacement. In this way, you have the tools to make repair or change decisions, considerably reducing the chances of equipment failure and stoppage.
3D modeling of industrial plants. From a point cloud, various shapes can be modeled to represent the execution environment of a project, using basic and more complex geometries, such as the modeling of steel structures using various types of beams (H, I, U, T, L). Data modeling streamlines the transfer of data packets for simulations and subsequent analysis. 3D modeling is carried out based on the adjustment of different geometries to a point cloud, where the precision of the adjustment that was made is delivered. Products of this application are interference analysis, virtual models, piping and metric studies, and distance delimitation of various study elements.
Tunnel measurement. Taking as a basis for the scan of a tunnel and its design, it is possible to make a comparison at any mileage, in order to observe the under-excavation and over-excavation of a sector. Multiple profiles of excessive or insufficient excavation are obtained, exportable to CAD platforms. In addition, reports with hard data of differences between project and execution can be obtained.
Open-pit mining. In the case of the production areas of a mining pit, the laser scanner is located in different strategically selected positions, in which the capture of spatial data is carried out by means of high-speed sweeps carried out by the instrument, allowing the capture of millions of points quickly. In each of the positions where the scanner is installed, its position is measured in real-time using GNSS technology. In the office, the information from the laser scanner is processed, obtaining a representation of a mining pit surface. This information serves as the basis for various analyzes, such as calculation of volumes of extracted material, monitoring of critical areas, and evaluation of mining reconciliation.
Underground mining. This scope includes from the daily control of progress to the identification of dimensions of various cavities, being able to carry out the measurement from drilling wells (miniature scanner that allows being inserted in holes of 5 cm in diameter) or to have the scanner inside the cavity by means of access bars, to be manipulated from the security zones. These controls and tasks allow planning and execution of exploitation work with greater precision and safety and a high degree of progress control.
Mining - stockpiles. Measurements of the various products obtained from the mining process, with high speed and precision, delivering more accurate volume measurements and estimates.
Architectural control. With spatial data it is possible to carry out measurements over time, allowing elements to have the original shape, in case of loss of one of them. Faced with natural disasters, such as earthquakes, it is possible to rebuild elements, whose forms have been modified.
Acknowledged as a pioneer organization of the business industry, we are affianced in providing 3D Laser Scanning Services.
Also read about:
Why Do You Need a Cover Letter
How to Generate Nitrogen with PSA Membrane Cryogenic Technologies
9 Things You Can Give to Your Car Lover Friend This Holiday Season